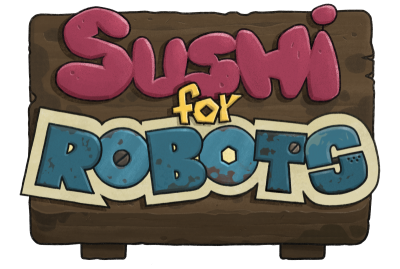 Sushi For Robots - Presskit

These robots are obsessed with sushi and you're the one serving it to them 🤖🍣
The game will be released in Q2 2023 on Steam. A mobile version is also in the works, but that will happen later.



Robots are picky (and kinda goofy). Make sure they get their food in time! It's actually a pretty chill game. You can always press reset and try a different solution.
Get creative! Use stickers to change the behavior of dishes and please your robotic clientele.

Sure.
Mouse-based accessible puzzles that never get too long or convoluted.
An open system that encourages experimentation and finding creative solutions.
Beautiful art that depicts an odd world where robots go to messy sushi restaurants.
A light-hearted narrative about friends that get together for their weekly dinner.

What's the story behind the game?
In October 2020, I made a tiny game in 2 days for Ludum Dare. That game, Sushi For Robots, got great reviews and some eyes on it.
Some time later, the Astra Fund got in touch to offer me one of their fellowships. With part of the funding I got from them, I decided to turn Sushi For Robots into a bigger game.
My main goal with Sushi For Robots was to make an interesting puzzle game, that was accessible (something you could share with others), goofy, sweet, and short. Hopefully a short game that takes a few hours and puts a smile on your face.

I started from scratch and tried to build solid foundations for the project. I spent quite some time experimenting with mechanics and building internal tools such as a level editor.
Later on, I hired MonstersPit to work on the visual style. I'm also working with Celer Gutiérrez and Mauricio Loseto for music and sfx.

That's it so far. We've been working hard and pretty much everything is there already (both levels and narrative scenes). We just need to keep polishing it for a little longer.

Who's making this?
I (Luis) am the main developer of the project. I've been working as a game designer for a few years now and I can also do some coding. I've worked on indie games as well as freelance projects for clients. You can find many of my free games here.

The lovely people at MonstersPit are doing the art assets.

And there's also Celer Gutiérrez and Mauricio Loseto, an amazing audio team.

I get tons of support (in different ways) from others on a daily basis. And more people might join the project before it's finished. Making games is hard!
How do I get in touch
Email: hi.ludipe [at] gmail [dot] com